Tweet Widget
Facebook Like
Google Plus One
This is the Hyundai i30 Fastback
The Fastback features a slightly lower roof and longer rear than the regular i30
The car has been tuned slightly to offer a more dynamic drive
Our test car was fitted with a 1.5-litre engine and a seven-speed dual-clutch DSG gearbox
The i30 Fastback has a smooth, comfortable ride on most road surfaces
The interior is much like any other i30
The interior is much like any other i30
The interior is much like any other i30
Interior is comfortable if somewhat unexciting
Rear passengers lose a touch of head room, but there"s still plenty of space
Boot is slightly bigger than i30 hatchback
The Hyundai i30 Fastback
Close
Our Verdict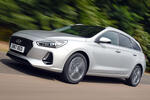 Hyundai's next-gen bedrock model gets a 'new era' look and shrunken turbo petrol, but is it enough to take on the Volkswagen Golf
First Drive Hyundai i30 Fastback Premium 2018 UK review

Hyundai's family car has been reworked into a five-door coupé - and promises added dynamism as well as some extra boot space

First Drive Hyundai i30 Fastback 2018 review

The Hyundai i30 Fastback combines good looks with sensible practicalities, but its dynamic charm is what appeals the most
What is it?
There are better examples than the i30 Fastback of the Hyundai Motor Group's reinvention from purveyors of well-built, well-warrantied and, well, decent but not exceptional cars to a bold, ambitious rival of big European firms. 
You could look at the Volkswagen Golf-baiting i30N hot hatch or the BMW-bothering Kia Stinger executive GT. Next to those, an i30 hatchback that – to describe it uncharitably – has had its roof squished and rear stretched a bit doesn't seem all that radical.
Still, even if Hyundai's marketing talk of how the i30 Fastback is bringing premium five-door coupé styling – as seen on the likes of the Audi A5 Sportback – to the mass market is somewhat exaggerated, the fact that the Korean firm is considering the category at all is a sign of its boldness. After all, in the mid-sized family car market, the i30's existing hatchback and estate forms are likely to remain the most popular.
We've already driven the i30 Fastback with the 137bhp 1.4-litre T-GDi petrol engine in Spain, but this is our first taste of it on UK roads. It's also our first taste of the car fitted with Hyundai's seven-speed dual-clutch DSG gearbox.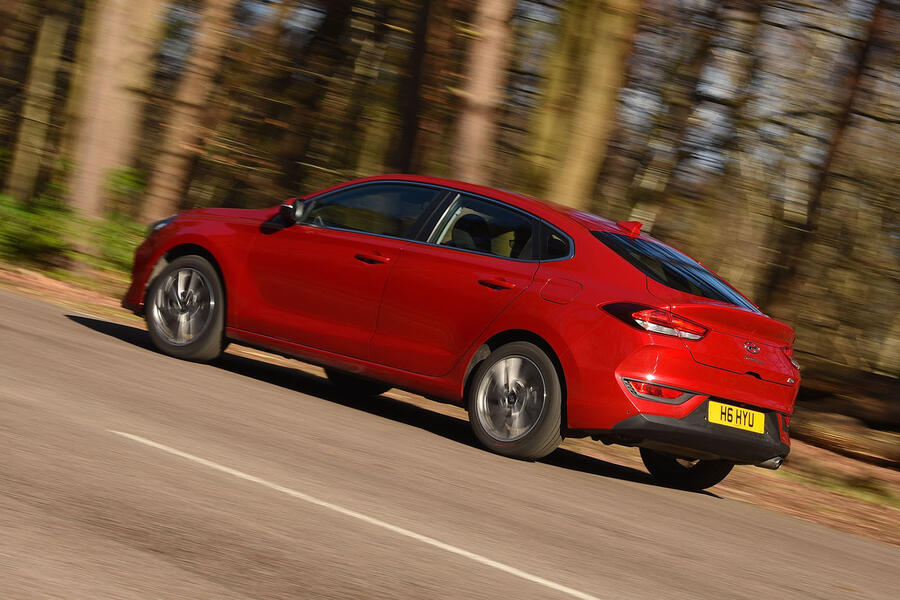 What's it like?
Much like the hatch version, the i30 Fastback is perfectly pleasant to look at, if not exactly a styling revolution. Still, that revised rear end – it's 115mm longer than the hatch, with wrap-around rear lights – has its charms, especially when combined with the slightly longer nose and lower front grille. Our test car ran on 18in wheels (it also comes with 17in wheels).
The exterior work ensures the i30 Fastback has a style of its own, although it's clear that it's a reworked version of a hatch. That mild makeover doesn't continue inside; it's exactly as you'd find in any other i30. It's well laid out and comfortable, if not particularly exciting. Still, everything feels practical and solidly built.
It's worth noting that the i30 Fastback slightly increases the capacity of the boot, and Hyundai has bundled in plenty of technology and driver assistance features. Our £23,440 Premium test car included safety features such as autonomous emergency braking, blindspot detection and lane departure warning. It also came with an 8.0in touchscreen, wireless phone-charger and plenty of USB charging points and sockets. Much like the non-Fastback i30, really.
Under the metal, the i30 Fastback has received a bit more work, with a slightly lower chassis and slightly stiffer suspension than the hatch. It's not enough to turn the natural and stable i30 into a truly dynamic sports coupé, but it is an agile steer that's pleasantly responsive. 
That slight stiffening of the suspension hasn't come at the expense of ride quality on Britain's roads; our test car was unruffled on city streets and country lanes, and coped fine when munching motorway miles.
As we found on our first test, the 1.4-litre petrol unit is a pleasantly refined cruiser and, with 179lb ft of torque from 1500rpm, has accessible – if unspectacular – performance.
Somewhat less convincing was the DSG gearbox. At speed, it was fine and suited the car's relaxed character. But it was less convincing during city driving; in stop-start traffic, we were occasionally left with little to no accelerative drive due to its over-eagerness to change up gear and reluctance to drop back down through the "box. Unless you're set on an automatic, we'd lean towards the six-speed manual "box.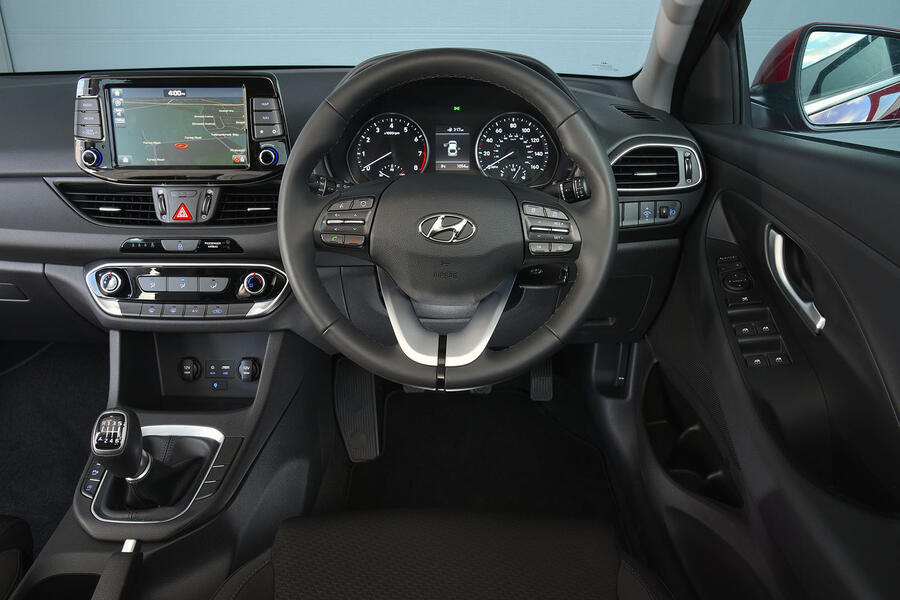 Should I buy one?
In a way, it's a compliment to Hyundai's developing boldness that identifying likely buyers for the i30 Fastback is a little difficult. It's more dynamic than the hatchback sibling, but unlikely to appeal to those seeking a really sporty coupé.
Yet, there is a decent amount of appeal here: it's practical, decent to drive, well built and well priced compared with the hatch version. In the same way the Audi A3 Sportback has found itself an audience, those seeking a slightly alternate family car would find plenty of positives here.
Hyundai i30 Fastback Premium
Where Surrey On sale Now Price £23,440 Engine 4 cyls, 1353cc, turbo, petrol Power 137bhp at 6000rpm Torque 179lb ft at 1500-4000rpm Gearbox 7-spd dual-clutch auto Kerb weight 1287kg Top speed 129mph 0-62mph 9.2sec Fuel economy 49.6mpg CO2 rating 134g/km Rivals Mazda 3 Fastback, Honda Civic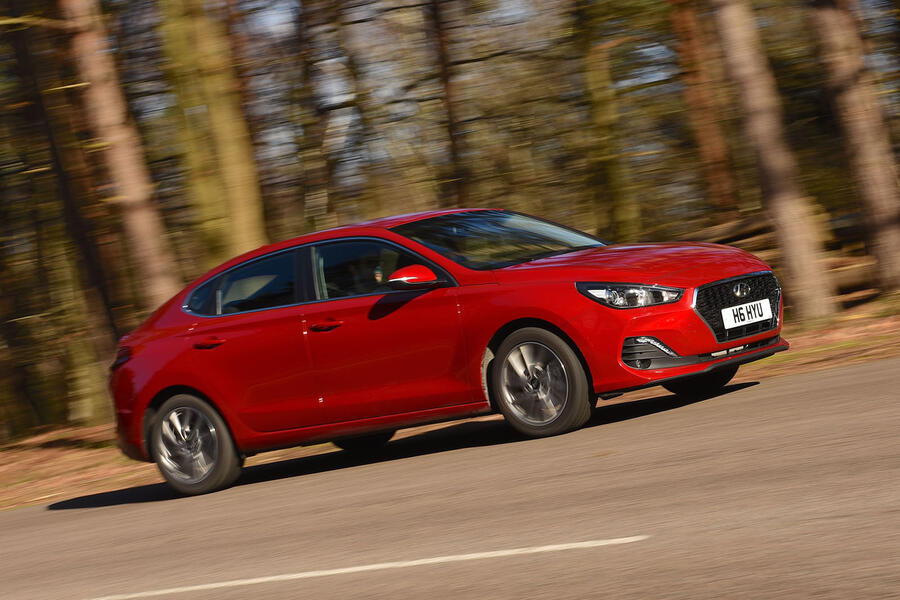 Tweet Widget
Facebook Like
Google Plus One
Nguồn: www.autocar.co.uk