Tweet Widget
Facebook Like
Google Plus One
Our Verdict
Honda's hottest hatch yet is quick on a track but just how well rounded is the new Civic Type R?
First Drive Honda Civic Type R long-term review

It's a warm welcome to this steaming hot hatch. But is it too fiery for Britain's roads?

First Drive Honda Civic Type R GT UK 2017 review

Broader-batted, more mature Honda Civic Type R works well on UK roads, but still doesn't offer the fun factor of rivals
Why we"re running it: To determine whether the most ferocious front-wheel-drive hot hatch on sale today is usable on a daily basis
Month 5 - Month 4 - Month 3 - Month 2 - Month 1 - Specs
Life with a Honda Civic Type R: Month 5
Making the infotainment a bit more individual - 6th June 2018
Our Civic's infotainment features some customisable options. You can upload an image to use as wallpaper, so I've used one of Matt Neal's BTCC car following his recent win at Thruxton. You can also choose from various icons to represent your car on the sat-nav screen. I've chosen an aeroplane, which sadly doesn't enable me to fly over traffic.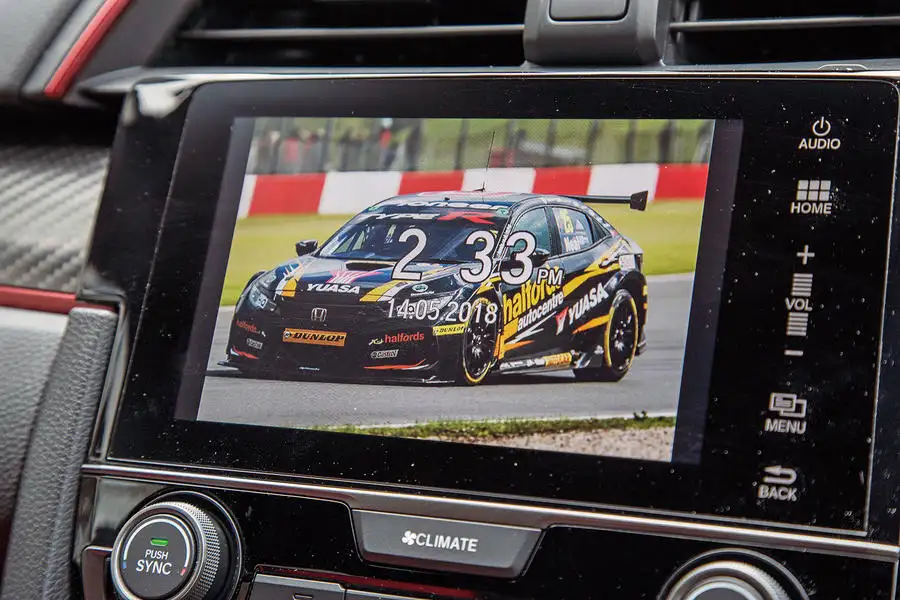 Mileage: 6995
Back to the top
Life with a Honda Civic Type R: Month 4
Easy to forget the looks when you"re behind the wheel - 23rd May 2018
When you're inside the Civic Type R, it's easy to forget how dramatic it looks from the outside. On photo shoots, I often swap cars, and it's only when I've been following the Type R in something else that I realise how polarising the design is. Not everyone is a fan, but I love it. Just a shame I don't get to see it more from behind the wheel…
Mileage: 6661
Back to the top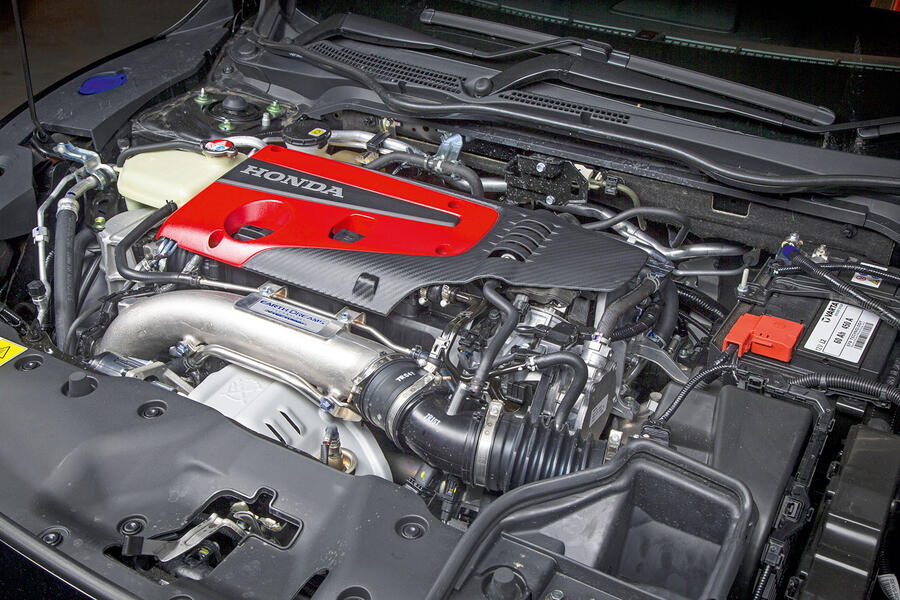 Now the engine's run in, there's no holding the hot hatch back - 9th May 2018
Our Honda Civic Type R has passed the 5000-mile mark. That's the kind of distance in a car's life where minor faults start to become full-on irritations, but not in this case.
In fact, the Type R is actually improving with age.
The engine has benefited from being properly run in, for one thing. When we first jumped into the Type R, the 2.0-litre turbocharged VTEC engine felt a bit tight, as such highly tuned units often are at first. But in recent months it's begun to loosen up, making the 306bhp engine more responsive.
That's good for the car's performance and it's also been good for my wallet. Honda claims a 36.7mpg fuel efficiency for the Type R, but in our early days with the car we were lucky to average in the 28s.
Granted, some of that is down to our desire to sample the engine's full potential – purely in the name of research, clearly – but the vast bulk of our mileage has been normal, everyday driving. Thankfully, as the engine has been run in, so the economy has improved, and we're now achieving an average of around 32mpg. That improvement adds up over time.
Of course, the Type R is never going to be a particularly frugal car to run. It's a performance hot hatch, after all. I was reminded of that when idly flicking through the owner's manual, a document so thick it puts some novels to shame. I found an instruction telling you to check the car's oil every time you stop for petrol. That might have been true of cars of yesteryear but it seems somewhat excessive in 2018.
Still, the next time I was filling up I gave the oil a check and topped it up. I was quite surprised I needed half a litre of oil, which was more than I'd expected after 5000 miles, and could add up over time.
Having to fiddle around checking my oil more frequently is a small price to pay for the sheer joy of driving the Type R, though: it's so rewarding in that respect. That was hammered home to me when I was given the task of snapping Andrew Frankel's recent tour of the sites of some of Sir Stirling Moss's finest moments, a 370-mile trek that spanned from Aintree to Goodwood.
Frankel was in a £108,780 Maserati GranTurismo MC, powered by a 4.8-litre V8 engine, while I got to follow him round in my £33,520 Type R. It shouldn't have been much of a fight, if you went by the list price. And yet, in challenging conditions on twisting country roads, I had absolutely no problem keeping up with him.
Frankel, who is no slouch of a driver, just couldn't get away – and I wasn't even pushing. The Type R just has incredible traction and speed, and the handling is predictable and consistently rewarding, with a hint of benign lift-off oversteer.
It made what could have been a long slog of a trip hugely entertaining. I'm sure I saw Frankel give a few envious glimpses in the rear-view mirror of the GranTurismo too.
In fact, the only real area in which I reckon it lost out to the Maserati – a car nearly four times as expensive, remember – was noise: the Type R's turbocharged unit will never sound as good as a mighty Italian V8.
Mileage: 5771
Back to the top
Life with a Honda Civic Type R: Month 3
Winter windscreen wear and tear - 25th April 2018
The winter weather caused damage to Britain's roads and to the Civic Type R's windscreen, which picked up several small chips from stones thrown up by cars ahead of me. A specialist windscreen firm quoted me more than £100, so I tried the chip repair service run by my local Halfords. It was quick, cost £25 and fixed the chips really well.
Mileage: 4624
Back to the top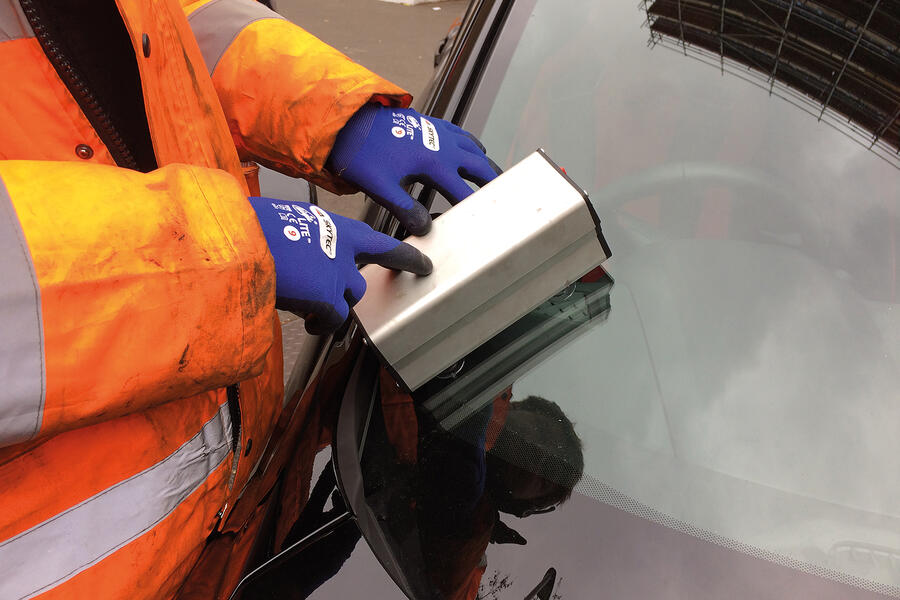 Road-going racer meets the real thing - 11th April 2018
A photo shoot at the HQ of Team Dynamics, which prepares the Civic Type Rs that race in the BTCC, offered a useful opportunity to compare our road-going car with its competition sibling. The race version is optimised for the track and to meet the rules but our car's exterior design has as much performance intent as you'd want or need on the road.
Mileage: 5113
Back to the top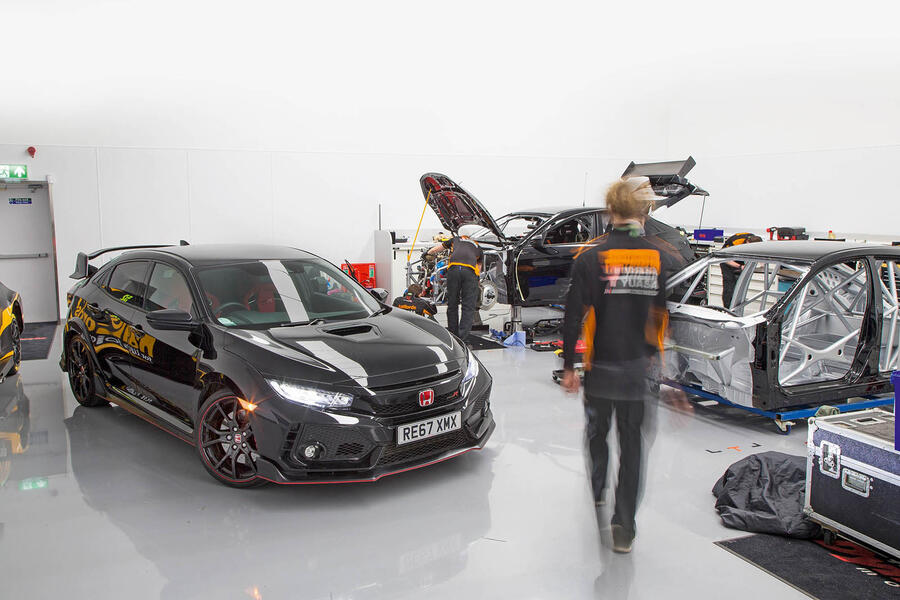 Life with a Honda Civic Type R: Month 2
Honda"s attention to interoir detail - 28th March 2018
The Civic Type R has a useful two-tier storage area in the centre console, just ahead of the gearstick. In our higher-spec GT model, the upper cubby doubles as a wireless charging mat if your smartphone is equipped with compatible technology. If it isn't, you might need to plug it into the USB port, in the lower cubby. A cable pass-through means no messy wires trailing around.
Mileage: 4202
Back to the top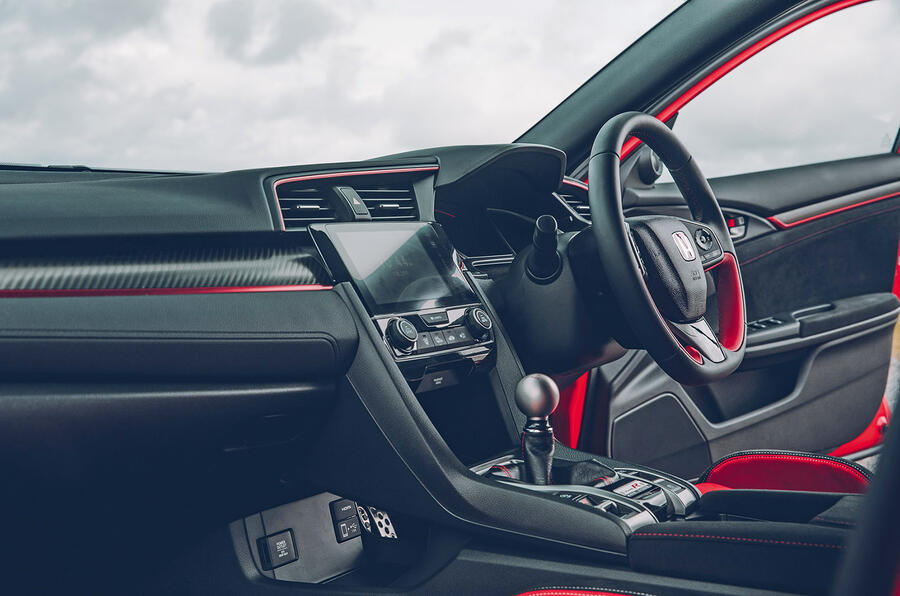 Cleaning off the winter grime is both an education and a chore - 21st March 2018
The exterior design of the Civic Type R might not be universally admired as a paragon of exquisite styling, but it marries function and form to good effect, with the wings, vanes and ducts all contributing to an enhanced airflow compared with the body of the standard Civic.
The shape of the front bumper, for example, creates an 'air curtain' that directs turbulence away from the front wheels. The dramatic-looking slats behind those wheels let air escape from the arches, thus reducing pressure. The front splitter and side skirts create downforce on the front axle, which is a contributory factor in this Type R being able to effectively manage its prodigious power through the front wheels alone.
That's the theory, anyway, but I was recently able to conduct my own (unscientific) aerodynamic testing during the milder days that followed the Beast from the East, when the snow thawed on the roads and a film of briny grime was splashed up over the Honda's bodywork.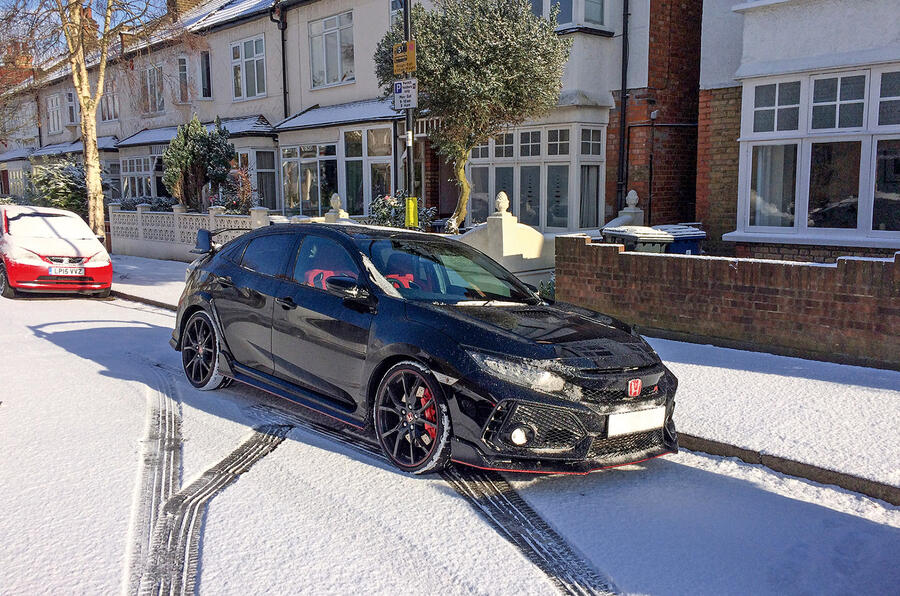 When we adopted this car back in January, we speculated that the pearlescent black paint, a £575 option, might show the dirt quite easily, and so it proved. Usefully, though, the swirls of dirt enabled me to trace the flow of air. To my eyes, it seemed that there was still quite a lot of turbulent air flowing around the body of the Civic, but the quality of my aerodynamic analysis could be one of the reasons why I shoot cars for a living rather than design them.
In any case, I don't spend a lot of time pondering aerodynamic minutiae when I'm driving the Type R – there's too much fun to be had. I've noticed that the driving mode selector seems to default to Sport when you first fire up the 2.0-litre turbocharged VTEC engine. That's logical, given it sits between Comfort and full-bore +R modes, but I've become familiar with other cars in which Sport is the name of the maximum-attack mode, not the middle-of-the-road choice.
I'm fine with it, though, because although Sport firms up the active dampers, adds weight to the power steering and sharpens the throttle's responses, it offers the best compromise of acceptable ride quality without dulling that heady performance. For me, Comfort mode injects a degree of lightness into the steering that feels unpleasantly artificial. Perhaps that might make the car easier to drive over very long distances, where you might not want as much involvement, but it just feels like the car has been neutered.
Having the driving mode selector as a rocker switch near the gearlever, where it is just the flick of a finger away, is preferable to the set-up on the previous-generation (FK2) Civic Type R. To deploy +R mode in that car, you had to prod a button that was partially hidden behind the steering wheel and windscreen wiper stalk.
It's yet another small way in which this version has made a step forward.
Mileage: 3920
Back to the top
Life with a Honda Civic Type R: Month 1
Innovative gear knob solutions - 28th February 2018
The Civic's beautifully machined aluminium alloy gear knob is an impressive thing to both admire and use. I have just one minor quibble with it, though: it is uncomfortably cold to the touch when you first get into the car on a freezing winter's day. Two solutions I've thought of: invest in some driving gloves or borrow a knitted hat from an Innocent smoothie bottle.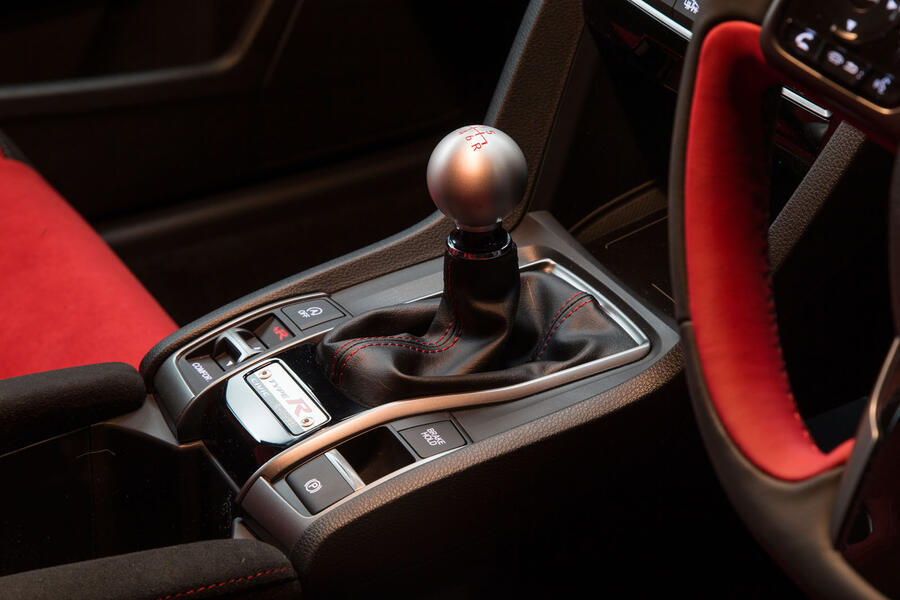 Mileage: 2481
Back to the top
The 316bhp hatch doesn't hide its roots as a practical family car - 14th February 2018
Performance car it may be, but the Civic Type R has to provide an element of practicality if it is to live up to the 'daily driver' brief demanded of it by a photographer.
If I'm heading to a shoot I need space, and plenty of it, for my kit. I have to say that so far I'm impressed by what I've found in the Civic. There's a surprising amount of room under that bespoilered rear hatch and it's certainly generous by the standards of this class. Officially, the Civic has 420 litres of boot space, increasing to 786 litres if you fold down all of the 60/40 split rear seat and pile your possessions as high as the bottom of the window line.
One idea that I like very much is the retractable luggage cover, which puts me in mind of either a roller blind or a Bacofoil dispenser. I find conventional solid parcel shelves rather ungainly, not least because I'm often forced to remove them to free up additional space and have to find somewhere safe to stow them. That's fine if you're blessed with your own garage in which to put such a cumbersome item, but considerably less fine if you're 20 minutes down the M1 before you remember you've left the flipping thing at Bruntingthorpe Proving Ground.
So retractable luggage covers are the way forward, and what sets the Civic's apart from many others is that it deploys from the side, so it doesn't act as a barrier across the width of the car when you need more space. It's one of those ideas that I can scarcely believe isn't implemented more often.
On a different note, in my previous report I mentioned the squealing brakes that were drawing unwanted attention to our Civic Type R during slow-speed, around-town driving.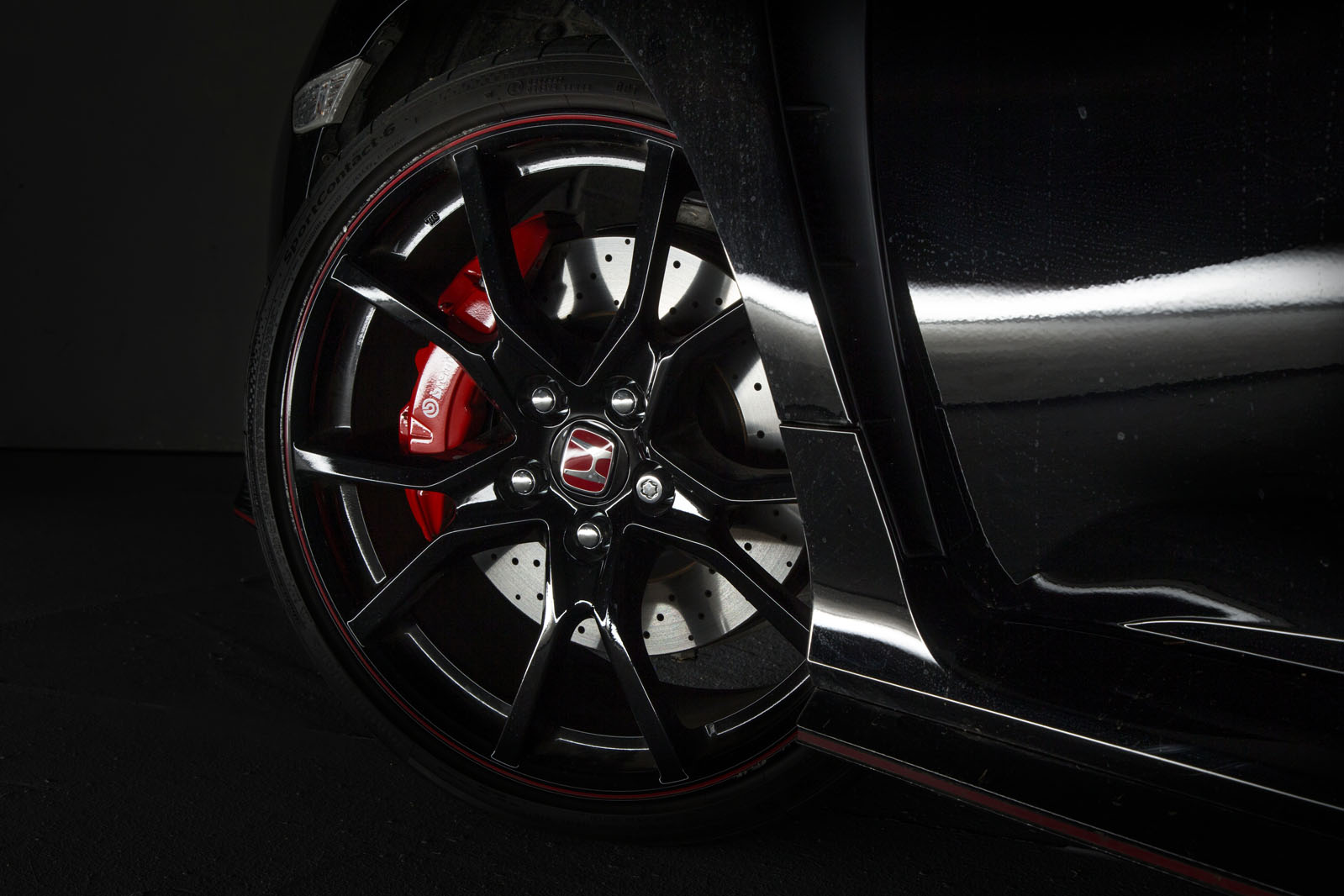 If the Type R online forums are any guide, it's a fairly common issue with this latest Civic. Our car has since been back to Honda's press garage, where the technicians skimmed the Brembo discs. That has alleviated the issue for the time being, but I've been warned that it is likely to return.
Indeed, the owner's manual (believe it or not, we've bothered to read it) states that "to satisfy the performance under a wide range of driving conditions, a high- performance braking system is equipped on your vehicle. You may hear the brake squeal under certain conditions, such as vehicle speed, deceleration, humidity and so on. This is not a malfunction."
So the noise is an unfortunate by-product of the car's performance intent, then, although in my opinion that doesn't satisfactorily explain why the Civic Type R makes it when many other performance cars do not.
Mileage: 2189
Back to the top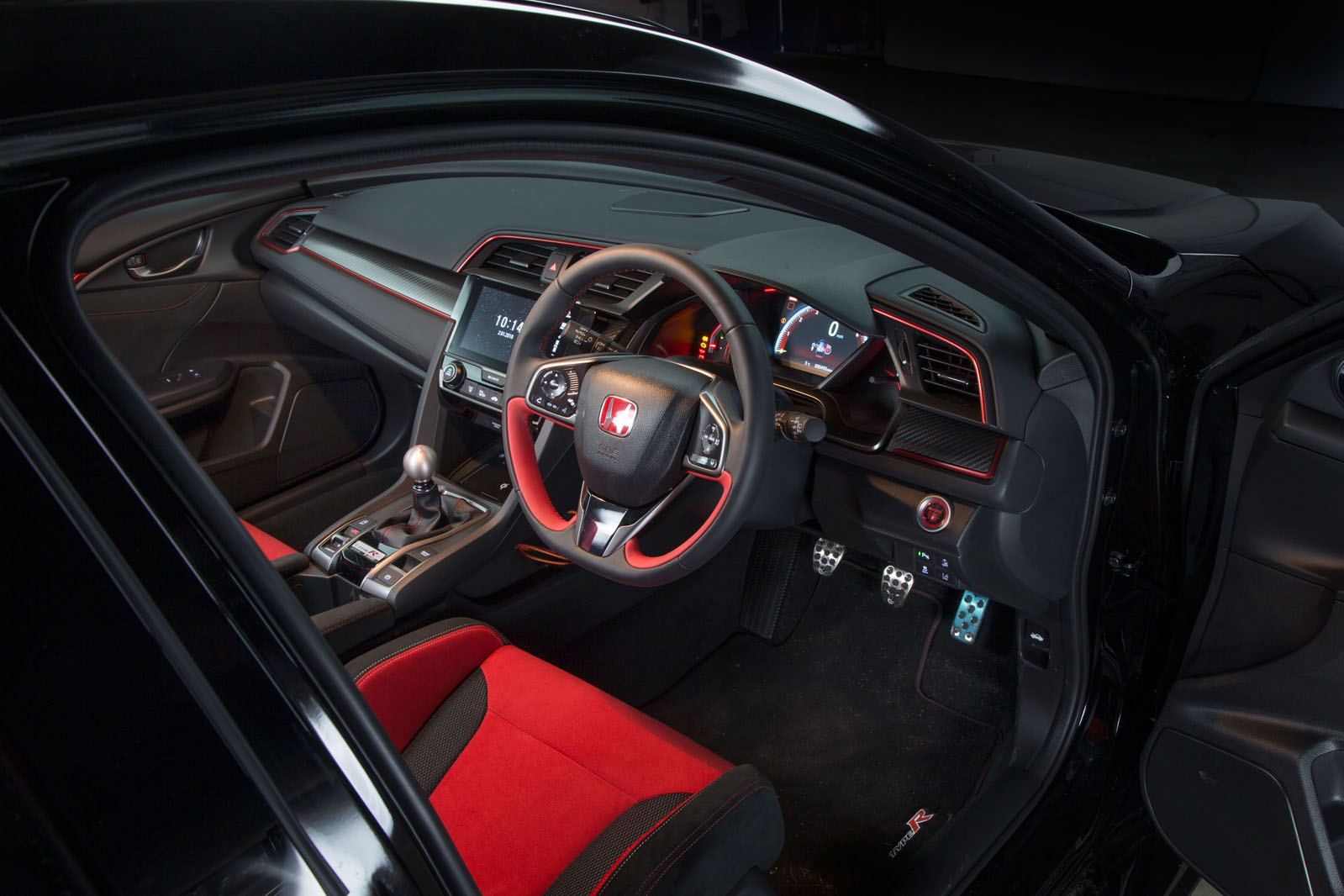 Welcoming the Type R to our fleet - 31st January 2018
It's less than two years since the previous-gen Civic Type R left our long-term fleet.
That's precious little time in the grand scheme of a manufacturer's model development plans, but Honda had good reason to quickly usher its latest banzai-hatch to market.
Not only was it conceived as a way to mark the 25th anniversary of the Type R sub-brand, which fell in 2017, but it was also produced in parallel with the cooking Civic. This made it easier for Honda's go-faster wizards to instil the foundations of hot-hatch nuttiness from the outset, whereas this Type R's forebear was developed long after the base model.
As much as this is a new car, though, the fundamental technical set-up isn't too far removed from the FK2-generation Civic Type R that preceded it, insomuch as the power is produced by a 2.0-litre turbocharged VTEC petrol engine, which is mounted transversely and mated to a six-speed manual gearbox that drives the front axle only, using a limited- slip differential to meter the power. The engine produces slightly more power than the old car's, at 316bhp compared with 306bhp, but torque remains the same at 295lb ft.
Beneath the surface, though, there are more significant changes aimed at refining the handling. The car is based on a new platform that enables it to be lower, wider and stiffer than its forebear, and there's a revised suspension set-up – most notably at the rear, where the torsion beam has been replaced by a multi-link configuration – and a new adaptive damping system.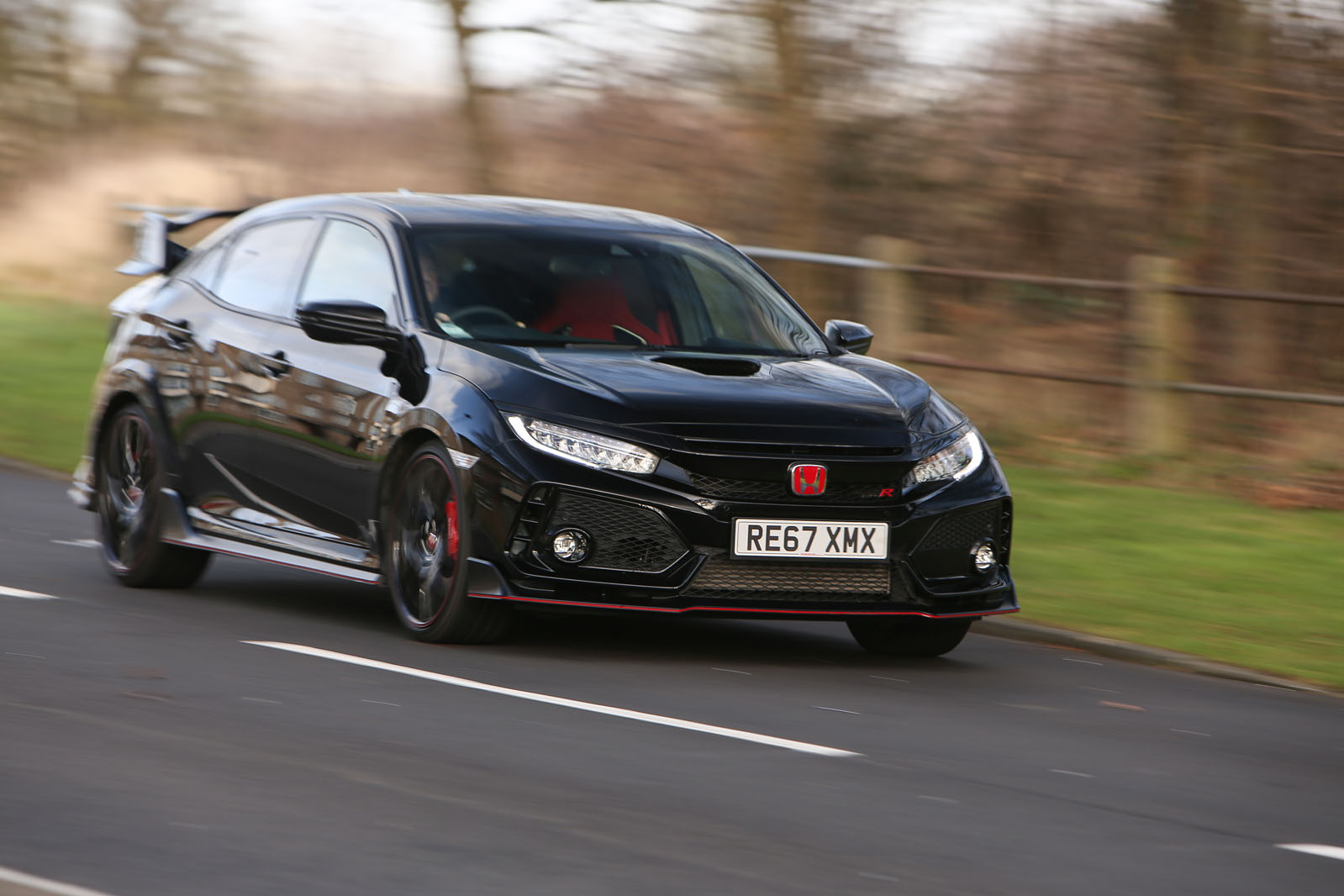 The move to a new platform has had an effect on the interior too, because the fuel tank has been moved from its position beneath the driver's seat to a location aft of the rear seats, enabling the driver to be seated lower, more in keeping with what you'd expect from a hot hatch.
Another change that's been made possible by the new underpinnings is a move to 20in wheels and 245-section tyres; our previous car ran on 19in wheels and 235/35 tyres. As much as those bigger, widerhoops should convey some dynamic advantages, I'm a little concerned at the effect they might have on the ride. As Autocar's snapper-in-chief, I rack up a lot of miles per week and it's fairly important to drive a car that's as forgiving to cruise in as much as it is engaging when I want it to be.
And here's where one of the most significant changes between the old and new Civic Type Rs should come into play. In this new one, you get three selectable drive modes, whereas the old one simply hadtwo choices: standard or 'R'. The latter, engaged via a red button on the dashboard, turned all of the old car's mechanical settings up to 11. 'R' mode, however, often felt too harsh and uncomfortable for the majority of British highways and byways.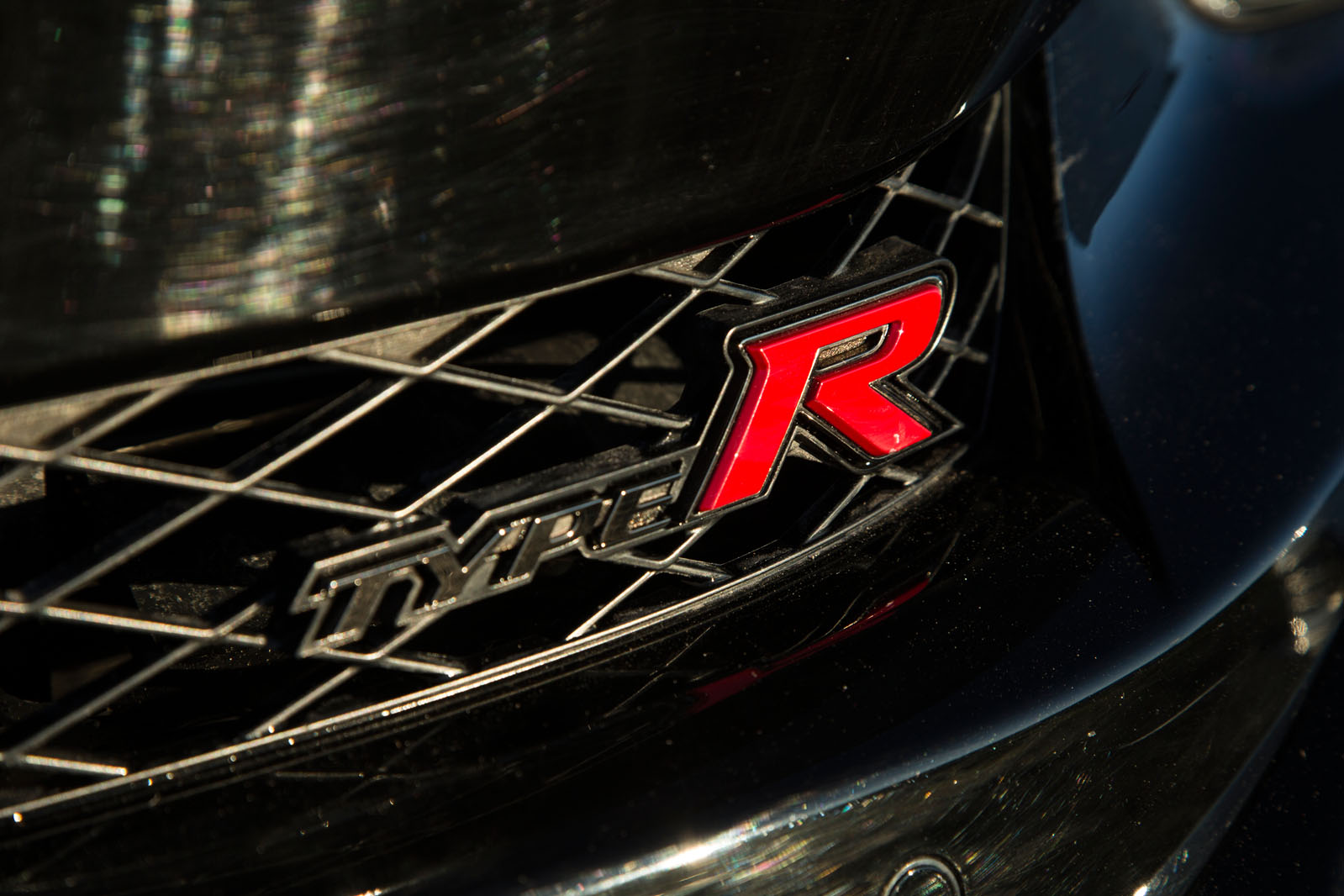 Honda clearly listened to feedback from the enthusiasts who buy its performance cars – and perhaps even took a long, hard look at what its hot-hatch rivals have been doing – because this new Civic Type R has an additional 'Comfort' mode. It can dial down the directness of the steering feel, damping, stability assist, traction control and throttle response. At the same time, the default (or 'Sport', as Honda names it) and full-bore 'R' settings – now accessed via a rocker switch near the gearlever – have been made more extreme.
What we expect to discover over the course of the coming months is a hot hatch with a broader spread of configurability. But can it really be capable of lapping at a supercar-bothering pace, yet comfortable enough to cover vast swathes of motorway without me needing to keep my osteopath's phone number on speed dial? What's also similar to the last Civic Type R we ran is the specification because, like our 2016 version, this new car is in 'GT' trim. For an additional £2000, you get a raft of comfort and safety features of the kind you might find useful on longer trips: blind-spot warning, parking sensors, front foglights, an auto-dimming rear-view mirror and dual-zone climate control.
That extra kit comes with a weight penalty that means the GT-spec Civic Type R takes one-tenth of a second longer to sprint from 0-62mph. Based on our early impressions, we're unlikely to quibble over 5.8sec rather than 5.7sec, though – so far, it has felt mightily quick to us.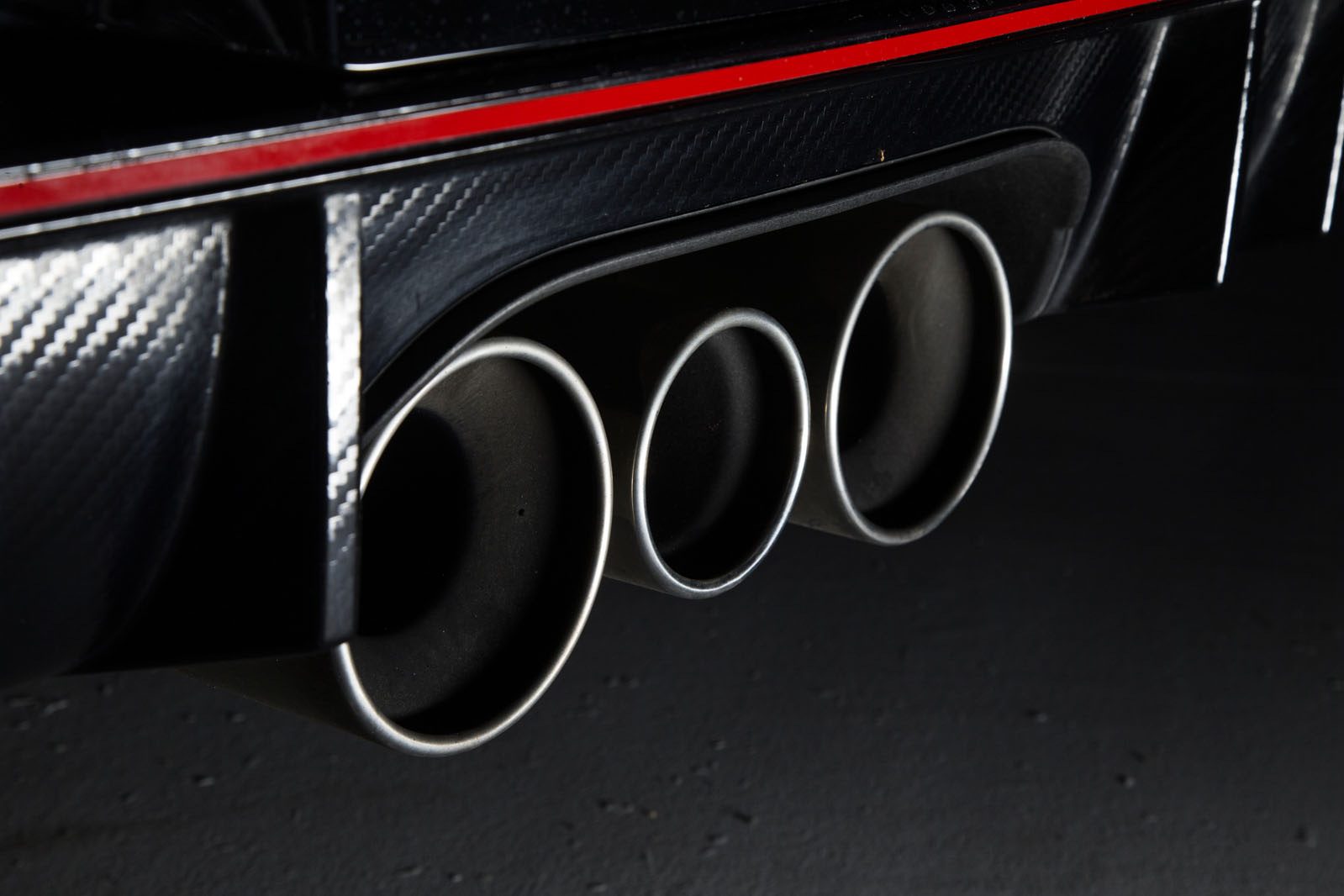 Beyond opting for the bells-and- whistles GT trim, the only cost option we've added is pearlescent black paint. They do say black is the new white when it comes UK motorists' favourite car colour – although, this being a photographer's weapon, I'm fastidious about appearances and expect to spend quite a bit of time and effort keeping the bodywork clean.
It's certainly an eye-catching car, but so far our Type R has also been turning heads for the wrong reasons. In the slow crawl of rush-hour traffic, there's been a rather loud squeal from the Brembo brakes that draws glares from passing pedestrians. Could it be just a new-car issue, indicative of a deeper problem or something we'll have to accept due to the Type R's performance intent?
We'll keep an eye (or, rather, an ear) on it, although we intend to waste as little time as possible plodding through traffic jams and more of it exploiting this hot hatch on some of the nation's best driving roads.
Second opinion 
I ran the previous Civic Type R on our fleet. On a specific road on a specific day when I was in a specific mood, I revelled in its raucous lack of manners, but it was a challenge to live with day to day, so I'm encouraged by talk of this one having a wider spread of ability.
Matt Burt
Honda Civic Type R specification
Specs: Price New £32,995; Price as tested: £33,520; Options: pearlescent paint £525
Test Data: Engine 4 cyls, 1996cc, turbo, petrol Power 316bhp at 6500rpm Torque 295lb ft from 2500-4500rpm Top speed 169mph 0-62mph 5.7sec Claimed fuel economy 36.7mpgTest fuel economy 24.9mpg CO2 176g/km Faults None; Expenses None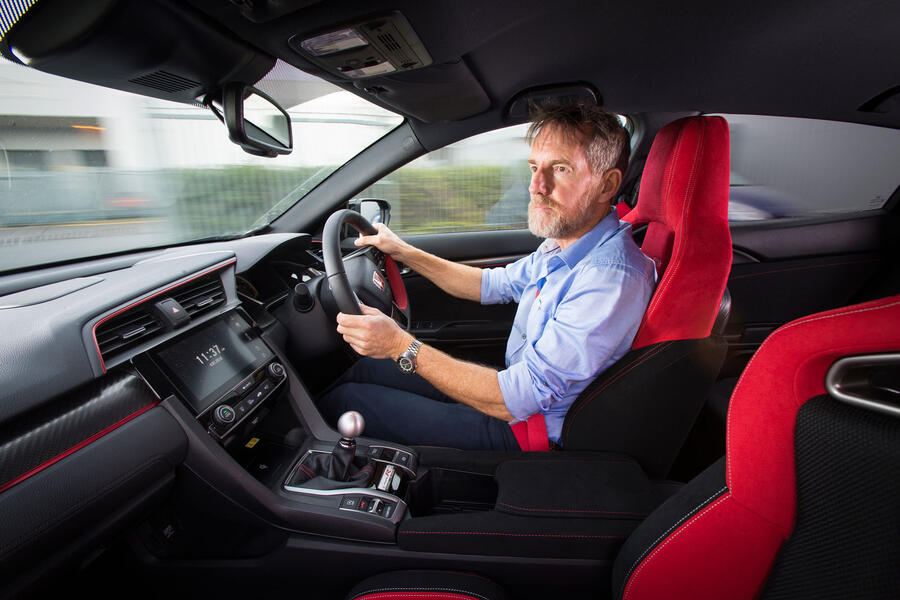 Back to the top
Tweet Widget
Facebook Like
Google Plus One
Nguồn: www.autocar.co.uk