Tweet Widget
Facebook Like
Google Plus One
Our Verdict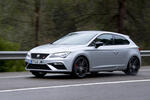 New hot hatch promises to outgun its rivals, including the Volkswagen Golf GTI
First Drive Seat Leon Cupra R 2018 UK review

Spanish manufacturer unleashes the most hardcore iteration of its hot hatch

First Drive Seat Leon Cupra R 2017 review

Seat's new hardcore hatchback impresses on many fronts and is the best of the hot Leon bunch, but the Cupra R isn't quite as engaging as the cheaper H

What is it?
This is the bells and whistles, top dog of the Seat Leon range – the most powerful, most focused and most extreme variant of the brand's Ford Focus rival. It comes equipped with the same turbocharged 2.0-litre engine as the supercar-aping Volkswagen Golf R, as well as a whole host of performance hardware to make a base-level Porsche Cayman sound under-gunned.
We first drove it in Spain late last year and were impressed by its eye-widening cross-country pace and quickened responses. But now, with all 24 UK-bound examples of the model sold out, we have our first go in one on British roads to really test how the addition of unique adaptive dampers and some pretty extreme (by production car standards) negative camber affect its real-world performance.
The car's engine produces 306bhp, identical to the Golf R, but there's no Haldex clutch to juggle power between the front and rear axles here, because drive is sent exclusively to the front wheels. Torque is controlled through an electronic locking differential that's taken straight from the Cupra 300.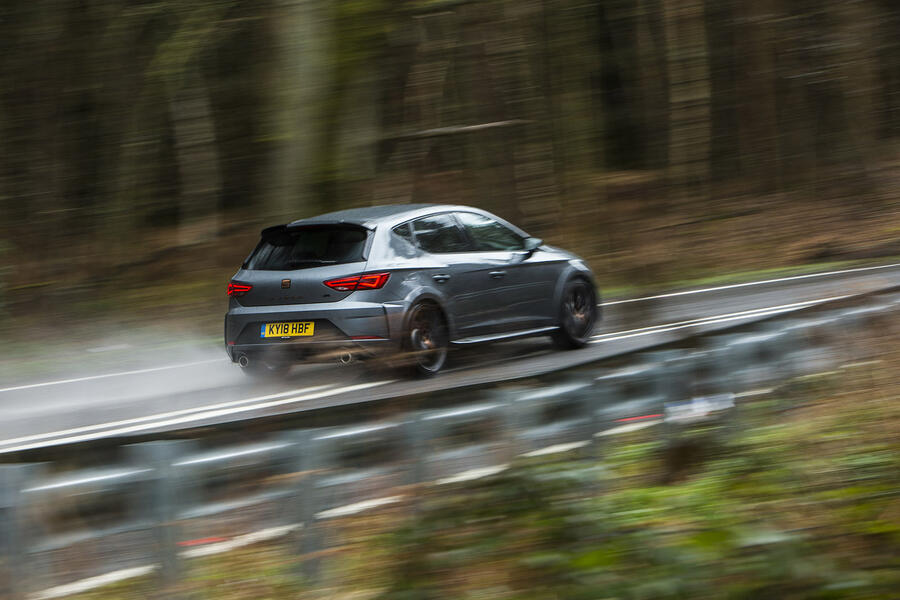 What's it like?
Point to point, even on a bumpy British B-road, the Leon Cupra R can make ground as fast as anything else with seatbelts and a horn. It doesn't chew into the tarmac under power on corner exits like a Golf R – with two-wheel drive, of course it can't – but the front wheels bite into the surface with such fantastic levels of traction that the Cupra R's rampant powertrain can be exploited with enthusiasm.
Often, focused hot hatches can feel overly harsh and brittle on Britain's busy road surfaces. But the Cupra R, with its uniquely tuned suspension, does a fine job of dissolving the vibrations generated by creases in the tarmac. It's firm, particularly at low pace, but the faster you go the more effectively the car glides over ridges in the road. That being said, it's not quite as forgiving as a Golf R, but to be fair, that was to be expected.
The Cupra R is very obviously more concerned with being driven like your hair's on fire, so charge into a corner on a trailed throttle and the front end will respond eagerly. The extra negative camber (it's been almost doubled) allows the car to really lean into its front tyres (our car came with optional Michelin Cup Sport 2 tyres rather than the standard Continental SportContact6s), encouraging the back-end to over-rotate a few degrees. It's not as laugh-out-loud mobile as the Honda Civic Type R or Renault Sport Mégane (which benefits from four-wheel steering), but it gives the car a more loutish demeanour.
That's matched by the engine's tone, which sounds more aggressive than the Golf R's thanks to a less restrictive (in terms of volume) exhaust that beguiles with pops and crackles off throttle when the car's set to its top Cupra mode – which is new for the R. Even more satisfying is the snort of overrun when you pull for a quick upshift through the car's tightly gaited six-speed gearbox. UK buyers aren't offered a dual-clutch automatic like other markets, but our experience suggests the Cupra is all the more rewarding for it.
Dial things back in comfort mode and the Cupra R is as supple as a warm hatch and as docile as a mid-spec diesel, although it never completely winds back to the same extent as the Golf R. The blip of throttle on start-up is a constant reminder you're in the hottest Leon to make production yet.
Should I buy one?
The question should be preceded by "Can I buy one?" because, unless you're one of the 24 Brits or 775 people from other markets who have already ordered it, you'll have to wait until the first Cupra R lands on the second-hand market to bag one.
Even if you could buy one, you might have a hard time justifying the price because, as exciting as it is, you are parting with £34,995 for a Leon. Consider that the equally as quick and more playful Civic Type R is £4000 cheaper, while the RS Mégane, which on first impressions could be the Civic Type R's biggest threat, is predicted to be almost £6000 less, and that figure only seems larger.
Then again, perhaps that's missing the point. The Cupra R is neither the most extreme nor diversely talented of the class, but it is an explosive model for Seat aficionados and you'd be hard-pressed to find one of those not astounded by its performance.
Where Surrey On sale Sold out Price £34,995 Engine 4 cyls, 1984cc, turbocharged, petrol Power 306bhp at 5800-6500rpm Torque 280lb ft at 1800-5700rpm Gearbox 6-spd manual Kerb weight 1453kg Top speed 155mph 0-62mph 5.8sec Fuel economy 38.7mpg CO2 170g/km Rivals Honda Civic Type R, Renault Mégane Renault Sport 280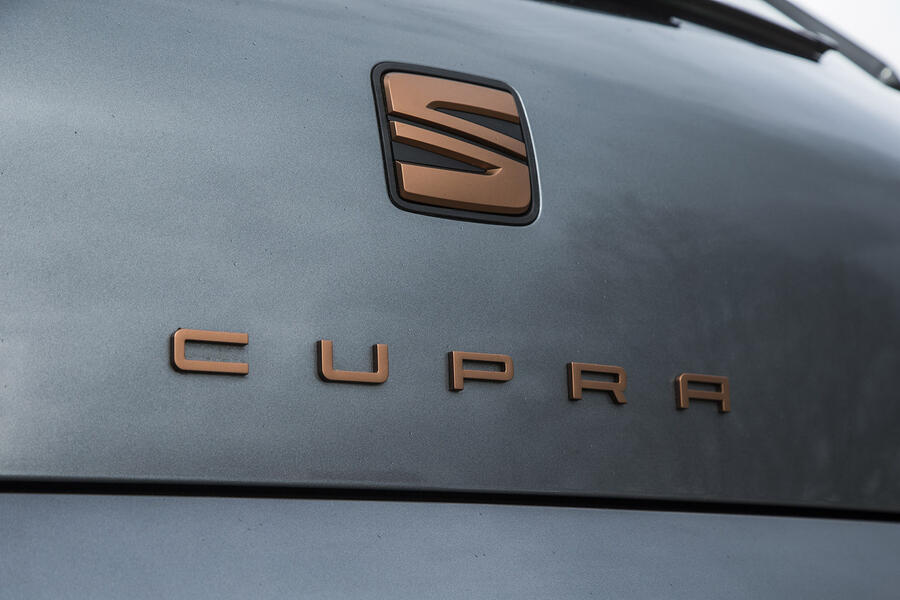 Tweet Widget
Facebook Like
Google Plus One
Nguồn: www.autocar.co.uk